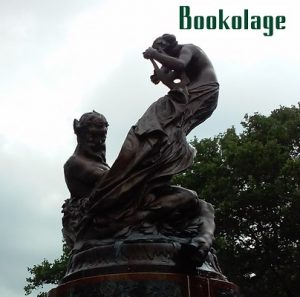 Sculpture: A Song to Nature by Victor David Brenner, 1918 – Oakland, Pittsburgh

Ranking
I tend to share books that I endorse, but I don't withhold negative criticism where it seems due. For each review I use hearts in lieu of stars.
❤❤❤❤❤ = Splendid
❤❤❤❤ = Quite cool
❤❤❤ = Well done
❤❤ = Doesn't suck
❤ = I need a drink

Mini-Reviews
Too many books can never be bad for you, but they can certainly cause difficulty for reviewers, which is the case here. The worthy titles I've read but haven't been able to focus on over the past several months and even farther back are numerous, but no less deserving of attention and praise. Among the ones I regret not having been able to review are Steven Livingston's Kennedy and King: The President, the Pastor, and the Battle Over Civil Rights, Warwick Davis' Size Matters Not, Rachel Dolezal's vilified – and extremely underrated and misunderstood – In Full Color: My Place in a Black and White World, Caitlyn Jenner's The Secrets of My Life, Camille Paglia's Free Women Free Men, Catherine Hewitt's The Mistress of Paris: The 19th Century Courtesan Who Built an Empire on a Secret, Cheech Marin's Cheech is Not My Real Name…But Don't Call Me Chong!, Robert Kyncl's Streampunks: YouTube and the Rebels Remaking Media, Heath Fogg Davis' Beyond Trans: Does Gender Matter?, Laura Kipnis' Unwanted Advances: Sexual Paranoia Comes to Campus, Hillary Clinton's What Happened, Jeremy Black's The World of James Bond: The Lives and Times of 007, Mark Frost's Twin Peaks: The Final Dossier, Alan Dershowitz's vilified – and extremely underrated and misunderstood – The Case Against Impeaching Trump, Richard Russo's The Destiny Thief: Essays on Writing, Writers and Life, David Ikard's Lovable Racists, Magical Negroes, and White Messiahs, Erika Jayne's Pretty Mess, Andrew Morton's Wallis in Love: The Untold Life of the Duchess of Windsor, The Woman Who Changed the Monarchy, Duane Tudahl's Prince and the Purple Rain Era Studio Sessions 1983 and 1984, Mary Beard's Women & Power, Daniel Kalder's The Infernal Library, Ursula K. LeGuin's No Time to Spare: Thinking About What Matters, Jordan Peterson's 12 Rules for Life: An Antidote to Chaos, Laura Sook Duncombe's Pirate Women: the Princesses, Prostitutes, and Privateers Who Ruled the Seven Seas, Kevin Dann's Expect Great Things: The Life and Search of Henry David Thoreau, Laura Stache's Breaking Bad: A Cultural History, David King's The Trial of Adolf Hitler: The Beer Hall Putsch and the Rise of Nazi Germany, Peter Hayes' Why? Explaining the Holocaust, Ice-T's Ice: A Memoir of Gangster Life and Redemption, Christina Snyder's Great Crossings: Indians, Settlers and Slaves in the Age of Jackson, Robert Sutton's Stark Mad Abolitionists: Lawrence, Kansas, and the Battle Over Slavery in the Civil War Era, etc.
Disclosure: Penguin Random House (and a few of its imprints), Knopf, Cleis Press and some other publishers send me some free review copies and press kits.
Thanks for visiting.

– David