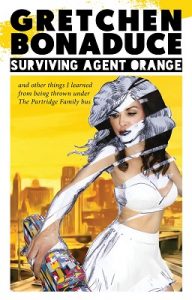 Rating: ❤❤❤❤❤
I pray you, husband, be not so disquiet…
– Katharina to Petrucio, The Taming of the Shrew
First of all, she's a Pre-Raphaelite fantasy incarnate. She has all the iconic aesthetic traits, plus much wisdom and brains – and a lovely voice. Ever since my discovery of Gretchen Bonaduce, whose last name comes from her former marriage to famous/infamous Danny Bonaduce, I've considered her clever and fascinating, so I was very pleased to have my impressions justified by her new memoir, Surviving Agent Orange: And Other Things I Learned From Being Thrown Under the Partridge Family Bus. While the main part of the title would be perfect for a book by an anti-Trumper, it, of course, refers to her larger-than-life ex and the almost twenty trying years of matrimony they shared. Since I'm quickly wearied by even-keel, mutually patient and cooperative romances, I tend to be sucked in by volatile couples, such as Richard Burton and Elizabeth Taylor, Lindsay Buckingham and Stevie Nicks, Henry VIII and Anne Boleyn, Diego Rivera and Frida Kahlo, F. Scott and Zelda Fitzgerald – even fictional Petruchio and Katharina, and Cheers' Sam and Diane. Therefore, I'm likewise a sucker for Danny and Gretchen. However, Surviving Agent Orange is about much more than a marital rise and fall, also providing a well-paced, incisive, apparently bravely candid account of Gretchen's life before meeting the former Partridge Family icon and, as she puts it, "AD (After Danny)."
Honestly, I approached this memoir with an established soft spot and respect for Danny, having read his excellent Random Acts of Badness memoir from 2001, as well as enjoying his various radio shows over the years. I also found him simultaneously charming, entertaining, frustrating and pitiable during my loyal viewing of VH1's underrated Breaking Bonaduce reality show back in the earlier 2000s. I still dig him and think he's underrated, honestly. There's much lovability and poignancy in Danny, stirred together with wit and humor – and deep anger and pain. Tarnished rogues tend to fascinate more than shiny mensches, don't they? ("There is more to be learned from the sinner," says Gilbert in Oscar Wilde's The Critic as Artist.) Danny certainly compels from a distance, but I'm sure that Gretchen speaks mostly truth when she describes the tribulation of living with and trying to save such a powerful, intense personality ad nauseam. The cool thing is that it took another kind of powerful, intense personality to remain sane and loyal for both their sakes for so long, and Gretchen's testimony about the marriage seems sincere and is probably mostly – if not completely – accurate.
Of course, the Bonaduces' story has two sides, and though Danny admits his chronic sins in Random Acts, he also piles praise after praise on wife-at-the-time Gretchen. First of all, she has the honor of the book's dedication: "For Gretchen: I am nothing without you." While Danny calls himself "a lying, cheating, then-unemployed drug addict," he refers to her in only lofty language: "quiet dignity, inner strength, and a noble nature," and "Gretchen may look like an ordinary person, but it is only a clever disguise. She is a perfect example of what humanity should and could be." Crediting her Christian faith against his dismal disbelief at the time, he says that he "envied her character," so unlike his own, further confessing that he "will always owe Gretchen for giving me back a life worth living." By all accounts, Gretchen's the real deal. For another example, in Surviving's foreword Adrianne Curry, professional model and former wife of Christopher Knight ("my ex-child star," as she puts it), says that Gretchen "is such a good person, I feel like a fucking asshole whenever I am with her." Those words could easily pass as Danny's.
Seventeen years later, post-divorce, extraordinary and lifesaving Gretchen offers a harsher assessment of her past counterpart: "a screwed-up man with a lifetime of bad habits and an unbelievable sense of entitlement," someone who "had a terrible time enjoying the moment and was constantly in fear about the future," "an angry beehive of a man," "almost the most broken man I have ever known" and "the ultimate fixer-upper" whom she thought she could tame – all unevenly counterweighted by "so very smart, talented, funny, and had a gigantic heart." While Gretchen sometimes borders on brutal in her recollections of Danny's antics, she does credit his many finer aspects, such as his enamoring extreme intelligence and his ultimate effect on her life's trajectory:
I believe that Danny would have been dead of in jail without me, and if you look back on all the interviews that were done during our marriage, Danny said it himself many times. And I, most likely, would have amounted to very little myself without him. He made me want to be a better person. He spoke so highly of me that I didn't want to let him down. But the pedestal was too high for any mere human. I was bound to fall off.
The two met back in 1990 in Phoenix, where Danny hosted a radio show, and they got married soon after their first date. Why? Because Gretchen, doing her damnedest to maintain her morality, insisted that they become husband and wife before hopping into bed. Needless to say, this proved to be a strong incentive for randy Danny. "When you won't let a man have any, he'll do almost anything to get some, including marrying you on the first date," writes Gretchen. Any above-ground human can understand the temptation, contrary to her self-downplay: "I have never been considered a particularly pretty/beautiful/gorgeous person. The best I could ever get was 'she's a cute girl.'" Yeah, right. (But the term "cute" does remind me of Danny's evaluation of the morning after their quick wedding: "There she was, cute, naked, and funny.") Gretchen goes on to explain the moral duality at the heart of her impulsivity back then: "The circumstances of how Danny and I got married are the perfect example of my good-girl/bad-girl thinking. I wanted to have sex, but also wanted to be married…"
Skip ahead a little to one of the first big red (orange?) flags from Danny's end of the espousal. He was arrested after apparently assaulting a transwoman after picking her up in his car. (Interestingly, in his memoir Danny refers to the other party as a "transvestite." There is a difference.) After an unsuccessful attempt at an alibi, a naked Danny forced out of the house and taken to jail by police. Gretchen was yet to be hardened by perpetual fiascos, so she did her best to help her husband. "I thought it was a badge of honor to be the long-suffering wife," she writes. Well, it is a badge of honor, really – just as it's honorable to be a long-suffering husband. But I get her point.
The book covers the Bonaduces' financial struggles (debunking "gold digger" accusations), their life in Philadelphia and how Gretchen was essentially friendless due to her always being "too busy babysitting my husband." However, the widely publicized transwoman/transvestite incident reaped some positive fruit in the form of exposure and buzz. On top of that, Danny landed some regular standup gigs, thanks to his inclusion on tour with former Partridge Family co-star David Cassidy. Then good times really started rolling when WLUP's The Danny Bonaduce Show became successful in Chicago. However, a familiar fatal flaw would inevitably flare up, and the partridge would inevitably come home to roost, so to speak:
Things were going great. Unfortunately, I came to learn that this was a huge problem for Danny. This was when I needed to watch him the most. It was like a subconscious thing in his mind: "I'm doing great; time to shoot myself in the foot."
Gretchen reiterates this self-destructive tendency in Danny more than a couple times in the book. At first, like anyone, I shook my head and wondered with frustration why many folks sabotage themselves that way, but then I remembered that Danny himself had always been quite aware of and honest about this habitual foible, revealing its valid pathological root. From his memoir:
Every day my life got better, the more I knew I didn't deserve it – and it was obvious I had done nothing to deserve Gretchen…I was afraid of everything. Life would throw me the smallest curve and I would immediately assume the worst.
My more justifiable wonderment is at people who are perplexed or disgusted by such shame and reluctance. Some spiritual burdens are heavier and less wieldy than others, and factors of upbringing, life experiences, traumas and coalesced psychological situations in general result in different behaviors in regard to bearing existential burdens. In fact, I find the contrast of Danny's and Gretchen's negative/positive worldviews and life-navigation to be not only quite interesting but quite archetypal, if you will.
My mind involuntarily goes to the Marvel superheroes Cloak and Dagger, created by Bill Mantlo and Ed Hannigan. While world-soured, brooding Cloak swallows up scumbags in his dark, horror-inducing cape, Dagger strikes wrongdoers with weapons of light that bring out what's left of their inner goodness. Symbiotically, Cloak relies on Dagger to replenish his strength with her light therapy, lest he sink into total despairing darkness, which in turn enables her to relieve herself of excess light. (I can't imagine a Linus without a Charlie Brown or a Christopher Robin without an Eeyore. Nor can I imagine ever tolerating a world of only Linuses and Christopher Robins. Gross!)
Along with struggling to keep the drug-addiction hounds at bay, Danny was unfaithful in Chicago, but Gretchen hadn't the focus or the evidence for the infidelity to become a deal-breaking issue yet. On the other hand, she considers the period when they had their first child, Countess Isabella Michaela Bonaduce, as "the happiest I ever was with Danny." As is true in many conflictual relationships, there were many good times, fun times, even hilarious times. For instance, knowing Gretchen's admiration of Lady Diana, "the princess of all princesses," Danny used his connections to arrange it so that she could see Lady Di at the Drake Hotel. Though Di wasn't exactly warmly receptive to Gretchen's fangirly gushing, the room the princess had stayed in went on auction, and Danny won the bid. "We threw a small dinner party the night we stayed there," writes Gretchen, "and of course had to take pictures of us on the toilet as Di's tushy had been seated on it at one point."
Another amusing episode (one that also has a lavatory basis) happened after Danny replaced his addiction to drugs with "a fitness addiction." Gretchen had to sneak junk food into the house so that he wouldn't be tempted to backslide on his diet, but one day she smuggled some contraband pie into the house and hid it in the basement. When Danny found the tempting pie, Gretchen grabbed it from his hand and fled – and then a silly chase around the house ensued. Finally, desperate to dispose of the objet de désir, Gretchen decided to deter the destruction of Danny's dietary discipline with a dirty grand design:
I had no choice. I threw the pie on the ground and sat on it. I started to pee on the pie.

Everything went silent for a moment. Then we erupted into uncontrollable laughter. I had successfully stopped him from eating the pie.
After residing in Detroit and then New York City, the Bonaduces decided to move to L.A. in pursuit of a better career opportunity for Danny, a co-hosting gig on a morning show called The Other Half: a sort of spin-off of The View (also co-starring Mario Lopez and Dick Clark). "Danny just wasn't able to crack NYC," Gretchen writes. "At that time, Howard Stern was king of terrestrial radio. He was unbeatable." Though the awaiting prospect was positive, she felt foreboding on the flight to L.A.: "I just closed my eyes and a thought came over me. This fucking town was going to ruin my marriage. Boy oh boy, did I hit the nail on the head."
In L.A. Gretchen conceived their son, Count Dante Jean Michael Valentino Bonaduce, which was a joyful development, but, inauspiciously, The Other Half's debut episode was ruined by the terrorist attacks of September 11th. Luckily, the show did relatively well and got picked up for a second season. "That season would be my personal 9/11," writes Gretchen.
Throughout the memoir Gretchen makes it clear that she was far from idle and even farther from being merely Danny Bonaduce's spouse. She seems to have had lifelong ambition and productive use of her talents. Ironically, she landed a gig as associate producer for Life Moments, the show that replaced The Other Half after it was cancelled. Also, her desire to be a professional vocalist never dwindled, and it eventually paid off. Several years ago she even originated an Opus Oils fragrance called Unearthly Beauty? (the question mark is part of the name).

During the period of her "personal 9/11" Danny's deceit, drug-abuse and infidelity intensified. Gretchen tells of how he mistreated her during their visit to Holland, in front of an attractive painter/drug dealer guy she'd met. After unwittingly downing an ecstasy-spiked drink (compliments of Danny), she went into vomiting fits which resulted in absolute mortification, needless to say. Gretchen's irrational "solution" for how to both penalize her husband for his resumed cheating back in the U.S. was to return to Amsterdam and have sex with the painter/drug dealer. This, mind you, never came to fruition.
By 2002 Gretchen had full knowledge and proof of Danny's adultery: the mistress whom she dubbed 9021Ho. "This is the only name I will refer to her by in this entire book," Gretchen writes, "so don't try to get it out of me." After much confrontation, Danny confessed that he had fallen in love with 9021Ho, but later, with alleged remorse, he had a wedding band tattooed to his ring finger and claimed it was a token of his eternal loyalty to his wife. Though this endeared many folks to him, Gretchen discovered that none other than 9021Ho had a matching ring tattoo!
As I mentioned earlier, I first fell for Gretchen in Breaking Bonaduce, VH1's 2005-2006 reality series. After agreeing to do the show, the Bonaduces exposed themselves to viewers, revealing much turmoil and dysfunction – but also, at least in my eyes, evincing an admirable wild kind of love. But Gretchen's memory of it all isn't so romanticized. I suppose their intimate tug of war can be summed up pretty aptyl by another of my favorite exchanges in Shakespeare's The Taming of the Shrew:
Petruchio: Nay, come, Kate, come; you must not look so sour.
Katharina: It is my fashion, when I see a crab.
For her, stomach pain resulted from refreshing her memory about those days for the memoir, and she stresses that the realness of that reality was anything but manufactured for ratings: "Now on our TV show, it was essentially full-on reality. They didn't need to set up situations to cause controversy. We had that in spades." A big part of that genuine controversy was the question of her love for Danny. "When Prince Charles was asked on TV if he was in love with Lady Diana, he said, 'I guess,' whatever that means," Gretchen writes. "I had a difficult time wrapping my head around that term, too – and I still do."
Danny had always been a hotly jealous person, so the suspicion/tantrum cycle hit a critical level when he slashed his wrists with a razor during a fight over male strippers being at Gretchen's 40th birthday celebration. Considered a suicide attempt, he was 5150ed by cops and ended up in his third term in rehab. After almost 20 years of marriage and two scorching seasons of Breaking Bonaduce, the star-crossed matrimony broke. Danny himself realized the detriment's depth years before the show, confessing in Random Acts of Badness that he "lost all touch with 'human' reality and 'human' feelings because of drug addiction." There'd been many close-to-breaking points, but this time Gretchen had made up her mind and heart. I'm reminded of the closing lyrics of Jimmy Webb's "By the Time I Get to Phoenix" (the gender reference reversed, of course): "And she'll cry just to think I'd really leave her,/Though time and time I tried to tell her so,/She just didn't know I would really go."
Despite the involved acrimony and heartache, Gretchen expresses some sympathetic sentiments toward her ex-husband, tinged by her enduring Christianity, in the book:
Two wonderful kids, a sizable amount of money to split, a lot of great stories and memories. It was worth it. All worth it. At least to me…Hopefully over the years you have had time to read this really good book. It's called the Bible. It has this list of ten things that are good advice. Ten rules to live by that would have made your life so much better. But who am I to judge?
Life goes on, as they say, and it seems that the permanent split freed Gretchen to hone in on her artistic dreams. After singing for The Mudflapps, "the world's richest garage band," for a while but not performing live as much as she wanted, she formed another band called Ankhesenamun (named after the wife of King Tutankhamun), Ankh for short. This led to the development of a romance with the band's drummer, coincidentally named Ringo.
Gretchen also landed a gig on a competition reality show called, funny enough, Give Me My Reality Show, on which she competed to create a winning pilot that could become an actual series. Her dating-show concept won, and one of her several suitors turned out to be a former legal adversary:
After my divorce was final, one of the guys that asked me out was Danny's divorce attorney. Isn't that hilarious? I wanted to go out with him because I am sure a divorce attorney hears all the worst things about you, so I was intrigued as to why he wanted to take me out to dinner.
Once again, Gretchen's affiliation with Danny Bonaduce factored into her life. Directly and indirectly, their fateful coupling defined their identities, as such intimacy must for everyone, so I can safely say that the Bonaduces' stories are inexorable – and, really, would be less vibrant and affecting without their entwinement. To her credit, Gretchen addresses Danny honestly in the Acknowledgements section at the end of the book. "I can honestly say this book would not be possible without you," she admits. "Thank you for being the father of our two amazing and wonderful children." More selflessly, Danny concluded his 2001 memoir with a hardcore statement: "So, who am I really?…I am Gretchen's husband." Well, it turns out that he went on to be much more than that and seems to be excelling in both career and love. (Unlikely enough, he's now a "life coach" on a morning radio show in Seattle, among other things.) And, needless to say, Gretchen has flourished and continues to flourish in the After Danny era.
Aside from her astute insight, comfortable prose and remarkably upbeat, optimistic nature, Gretchen also exhibits a sharp sense of humor. For instance, referring to her attraction to big noses on men, she compliments actor Adrian Brody's prominent proboscis as "my holy grail." Another example of her humorousness involves a girlhood memory:
I loved being a Girl Scout and camping at Camp Potawatomie Hills when I was a kid. For one thing, we were able to pick a camp nickname that we wanted to go by. I was happy to be rid of the name Gretchen for one week. One year I was Rocky and another Bambi, which totally sound like stripper names to me now. What's up with that?
Despite all the stuff I learned in this entertaining, edifying chronicle, the first thing I share with folks when I mention Surviving Agent Orange is what I call the pee pie. And, quite artfully, Gretchen doesn't let readers forget it, for it returns in a late chapter called "Things I Have Learned in my 52 Years." Though some common sentiments are among the epigrammatic lines, such as "There is no I in team" and "Don't sweat the small stuff," Gretchen imparts pieous wisdom for the ages in regard to urinary/pastry deliberation: "An apple pie is a good choice if you need to pee on a pie."
David Herrle